Future proof your practice by implementing Preventive and Functional Medicine
Be empowered to help your patients even more through functional medicine methodologies. At the Institute of Integrative Medicine we strive to only offer you training by the most qualified teachers in the field of Functional Medicine.
The Full IHP Certified Training experience right from your home or practice
The world is mostly frozen in place currently. Health professionals who have adopted updated methods of treating their patients are much more likely to survive.
Because of that, IIM Health is making possible something we've never made possible before. You can now livestream IIM Accredited workshops from your home or office! 
At the the Institute of Integrative Medicine we strive to only offer you training by the most qualified teachers in the field of Functional Medicine.
Dr William Shaw
Biochemist
William Shaw, Ph.D., is board certified in the fields of clinical chemistry and toxicology by the American Board of Clinical Chemistry.
Before he founded The Great Plains Laboratory, Inc., Dr. Shaw worked for the Centers for Disease Control and Prevention (CDC).
He also worked for the Children's Mercy Hospital, University of Missouri at Kansas City School of Medicine, and Smith Kline Laboratories. He is the author of Biological Treatments for Autism and PDD, originally published in 1998 and Autism: Beyond the Basics, published in 2009. He is also a frequent speaker at conferences worldwide.
Dr. Shaw is the stepfather of a child with autism and has helped thousands of patients and medical practitioners to successfully improve the lives of people with autism, AD(H)D, Alzheimer's disease, arthritis, bipolar disorder, chronic fatigue, depression, fibromyalgia, immune deficiencies, multiple sclerosis, OCD, Parkinson's disease, seizure disorders, tic disorders, Tourette syndrome, and other serious conditions.
Prof Pierre Durand
Professor
Professor Pierre Durand has seen years of experience in the medical field, graduating from the University of Witwatersrand as a Medical Doctor in 1994, and in 2002, his PHD in molecular evolution.
From 2007 – 2009, Prof. Durand went on to receive his MMED in clinical pathology and his MSc in molecular biology. Amongst his several degrees, Durand also did his postdoctoral fellowship in evolutionary biology.
From 2002 – 2007, he was a Specialist Registrar and Associate Lecturer at the School of Pathology at the University of the Witwatersrand. He then went on to lecture at the Dept of Molecular Medicine and Haematology at the University of the Witwatersrand. Currently he is the Chief clinical pathology consultant to JDJ Laboratories in Durban.
Amongst Prof. Pierre Durand's compilation of research, he was awarded a grant from NASA in a lead project. Today, he works on two other highly funded projects, working to build on what we know about cellular evolution.
Prof Maurice Mars
Professor
Professor and Head of Dept of TeleHealth at University of KwaZulu-Natal
Maurice Mars completed his medical degree (MBChB) at the University of Cape Town in 1977 and a Doctorate in Medicine (MD) in Vascular Surgery at the University of Natal.
He is currently Professor of TeleHealth at the University of KwaZulu-Natal, a department he established in 2002. He has been involved in aspects of eHealth for over 30 years, from database development and management in the 1980s, writing interactive tele-education programmes before the advent of the Web in the early 1990s and establishing telemedicine services since 2000.
His Department provides postgraduate education at Masters and PhD level in both medical informatics and telemedicine to students in several African countries.
Dr Janine Martins
MEDICAL DOCTOR
Dr Martins is a Medical Doctor and Psychologist, published author and speaker with 20 years professional experience in the health sector.
She has a background in Chemical Pathology having worked at the National Health Laboratory Services (NHLS) in South Africa and University of Pretoria.
She has a PhD from the University of Oxford in Public Health and the Oxford Centre for Diabetes, Endocrinology & Metabolism in the UK, investigating the effects of nutrition on cardiovascular disease, diabetes and cholesterol.
Dr Martins further specialised as an Aesthetics & Integrative Doctor (Functional Medicine) focusing on nutrition, women's health, chronic diseases and anti-ageing, with skills in mind-mapping, acupuncture and lifestyle management. She continued her research in partnership with the USAID to investigate new treatments for the prevention of HIV in women. Throughout her medical career, Dr Martins worked for Blackwell Publishing house in the medical division. She has won several awards for her research and has been a speaker at numerous international Conferences.
Prior to becoming a medical doctor, Dr Martins trained as a Psychologist and Clinical Social worker, and worked for 10 years on human rights projects in South Africa and the UK alongside the Department of Health, Save the Children, Changing Faces and collaborations with World Health Organisation (WHO). Dr Martins has developed an in-depth understanding of the interaction between mind and body, as well as the psychosocial aspects of health, abuse, weight loss and ageing.
Dr Martins is a Fellow of the prestigious Royal Society of Public Health, and the American Society of Pathology. She is also a member of the American Academy of Aesthetic Medicine (A4M), Aesthetic & Anti-ageing Medicine Society of South Africa (AAMSSA), the South African Society of Integrative Medicine (SASIM), and the Institute of Functional Medicine (IFM).
Dr Johann Baard
Medical Doctor
Dr Johann Baard is a functional Medicine Specialist and Scientist with more than 10 years of medical experience both in South Africa and abroad.
He finished his Medical Degree at Stellenbosch University in 2006 and received a Masters in Science and Medicine specializing in Human Genetics at the University of Cape Town (UCT) in 2016. After a stint in academia he decided to resume his studies in clinical medicine with a Fellowship in Anti-Aging, Metabolic and Functional Medicine through A4M in the United States.
During this time he opened his Functional Medicine Practice, KronoDeus, focused on using a patients' genetics to better formulate and individualize a functional approach to their medical condition.
Dr Susan Lehmann
Biochemist
Dr S.M.C. Lehmann is a world-renowned biochemist with over 40 years' experience in personalised supplementation and metabolic deficiencies.
Her primary focus are the amino acids which are essential for protein synthesis. From a nutritional view, proteins are the building blocks of all body tissue (development, maintenance and repair) and can act as a fuel source.
20 National & international publications.
Dr Lehmann's work has had amazing effects on many people's lives. Patients with Epilepsy, Sport performance issues, learning disabilities, ADD/ADHD, all saw significant changes in their health after seeing Dr Lehmann.
Carte Blanche, the South African investigative journalism television series, showcases the testimonies of many patients, in a segment called, "Fitness in a bottle."
Dr Samantha Baron
Research Professional
I am a research professional with a Doctor of Philosophy (Ph.D.) focused in Genetics, Biochemistry and Biotechnology. I have both industry and academic experience which attributes to a unique set of research, innovation and management skills.
I am currently heading a successful Genetics department where I lead a team which focuses on products designed around genetic testing. I am an experienced Research and Development Scientist accomplished in product innovation and design. I am also experienced in cosmetic formulations and have won multiple awards for my product designs.
Academically, I have co-supervised several students to the completion of their BSc (Hons.) and Masters degrees. I have taught several courses and practical's to undergraduate and BSc (Hons.) students. I have a strong academic research profile with eight peer reviewed publications and a patent.
Dr Robin Kohler
Homoeopath
Dr Robin Kohler is a formally trained homoeopath with more than 15 years of experience in clinical practice in South Africa.
He received his Masters in Technology at the University of Johannesburg in 2004 and has continued his studies through the Institute of Functional Medicine, the College of Natural Medicine, CTG Education and Semmelwiess Institute throughout his career.
Over his years of practice, he has added nutrigenomics, organic acid analysis, iridology and live blood analysis to his skillset. He has been training in Functional Medicine since the movement first arrived on our shores in 2012.
Dr Kohler is a great advocate of evidence-based natural medicine and uses high-end metabolic testing extensively in his practice.
Kendra Perry
HTMA Educator
Kendra Perry is a Functional Nutrition Practitioner & Online Business Coach who helps up and coming health coaches grow their practice with the utilization and implementation of Hair Tissue Mineral Analysis.
She is the creator of the HTMA Expert training course that trains health practitioners how to interpret HTMA like a pro and confidently create protocols that transform the lives of their clients.
She is the co-host of the 360 Health Biz Podcast where she teaches online business strategies for health coaches.
Kendra is a passionate outdoor enthusiast and adrenaline junkie and in her free time, you will find her scaling mountains with skis, bikes, harnesses and ropes.
Dr Stephan Vosloo
Medical Doctor
I am a father of five, grandfather of one and happily married for forty years. We live in a small town called Ladysmith in the rural Northern Kwa-Zulu Natal province of South Africa where I have a functional medical practice.
My own journey with chronic obesity and calorie restricted diets produced coronary artery disease, depression, cognitive decline and physical tiredness until I discovered the power of a low carb high fat diet combined with exercise, the right supplements and stress control. I am currently not taking any medication except Aspirin for the stent I have in my heart.
My last angiogram showed clean coronary arteries, I have regained my mental sharpness, am expanding my medical qualifications and I can exercise regularly again. I am also a better husband, father and grand father!
IHP Certification Fellowship Program
Starter Package
6 Modules
Enrol for a single module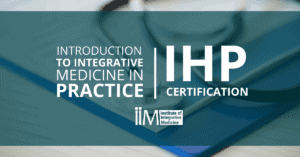 Introducing Functional Medicine into your Practice
Introduction to the different concepts of integrative, functional and anti-ageing medicine. Tools for conducting integrative assessments and consultations will be discussed and applied to a case study.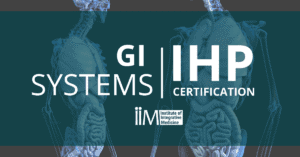 This module focuses on the physiology and pathophysiology of digestive disorders including the gut-brain axis, microbiome and gut permeability. Integrative testing and nutritional treatment protocols will be discussed.
Adrenal dysfunction – stress, HPTAG axis
An overview of the HPTAG axis and steroidogenic pathway. The phases of adrenal dysfunction, stress, tests, and integrative interventions will be discussed.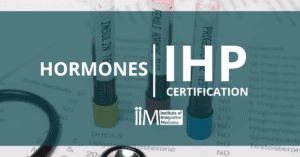 This module provides an overview of the HPTAG axis and interrelationships of these hormones, including thyroid dysfunction and hormonal changes in male/females. Integrative approaches to managing hormone deficiencies, BIHRT, supplements will be discussed.
Diabetes / Cardiometabolic
This module focuses on the pathophysiology of cardiovascular and cardiometabolic diseases including CHD, hypertension, dyslipidaemia, diabetes. Topics covered include glycaemic control, oxidation, nutrigenomics, risk factor testing, and treatment protocol.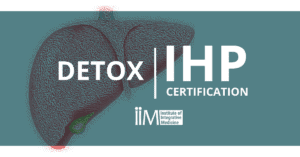 This module focuses on the pathophysiology of cardiovascular and cardiometabolic diseases including CHD, hypertension, dyslipidaemia, diabetes. Topics covered include glycaemic control, oxidation, nutrigenomics, risk factor testing, and treatment protocol. Very well presented session, very comprehensive.
Well done! looking forward to the journey
Very supportive and professional
I am grateful for having new options available to help my patients
Great source of information. Explained in a way that was easily understood
How do I become an Integrative Doctor? Most frequent questions and answers